March 31, 2017 12:09 pm
Dear terminologist! Every month we offer you a selection of our favourite articles and blog posts on terminology. This month we are suggesting you our five favourite articles. We hope that you will find them very interesting.
In case you missed them, you can catch up by just clicking on the titles below, which will take you to the original posts.
Enjoy the read and share with us your own reading proposals!
Top 5 Articles of the Month on Terminology – January 2017
Top 5 Articles of the Month on Terminology – February 2017
Top 5 Articles of the Month on Terminology – March 2017
Mar 31, 2017 - inmyownterms.com -

34
Once again, I couldn't pass the opportunity to give an overview of Prof. Schmitz's webinar organized by SDL. As in past summaries (read  here) I think the initiative by SDL Trados is worth praising, not only because it's something that we need to see more often, but also because the instructors are top-class terminologists who are sharing with us their knowledge and passion for terminology.
Mar 31, 2017 - bbc.com -

40
It is rapidly taking on the dictionary and becoming a part of every day speech. If you don't know it, you're likely to be left behind
Mar 31, 2017 - terminosophyblog.wordpress.com -

38
Analysis is to look for the meaning of things. It is to look for the objectives, to predict the consequences of a series of actions, to detect and discover the fundamental elements, or to anticipate the results and outcomes of a planned strategy.  Analysis is to ask how thing(s) function and what they do or will do…
Mar 31, 2017 - 20000lenguas.com -

9
Hace ya un tiempo, hablábamos de los beneficios que comporta saber más de una lengua y dábamos varios buenos ejemplos para animaros a dejar de ser monolingües. No existe una fórmula para aprender una lengua extranjera si no empezamos con una buena base, un ambiente favorecedor y un docente que nos motive y ayude. Desde…
Mar 31, 2017 - termcoord.eu -

9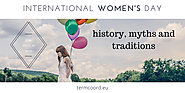 March 8th is the day to remember the social, political and economic struggles of women all around the world. Where does this celebration come from?
---
Olga Jeczmyk: Translator-Interpreter, Social Media and Content Manager as well as a former Communication and Terminology Trainee. Terminology Coordination Unit of the European Parliament in Luxembourg.
2,715 total views, 2 views today
Categorised in: All posts, Top5 Articles of the Month on Terminology