June 30, 2017 12:03 pm
Dear terminologist! Every month we offer you a selection of our favourite articles and blog posts on terminology. There was a little break in this section during the months of April and May but we are back! This month we are suggesting you our five favourite articles. We hope that you will find them very interesting.
In case you missed them, you can catch up by just clicking on the titles below, which will take you to the original posts.
Enjoy the read and share with us your own reading proposals!
Top 5 Articles of the Month on Terminology – March 2017
Top 5 Articles of the Month on Terminology – February 2017
Top 5 Articles of the Month on Terminology - June 2017
Jun 21, 2017 - termcoord.eu -

31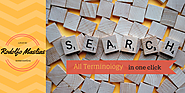 I have a dream: to create a search tool interlinking terminology big data with any database.
Jun 21, 2017 - inmyownterms.com -

32
Jun 21, 2017 - theguardian.com -

31
Have you made a flagrant error, in confusing your alternative choices? The legendary Fleet Street editor Harold Evans proscribes this glossary to solve your language dilemmas
Jun 21, 2017 - euronews.com -

9
No, this isn't a cheap gimmick to which you could reply with the two-letter word "it"; the longest word in Turkish really is the breathtaking
Jun 21, 2017 - verne.elpais.com -

15
Cerrojo, pizarra o zénit se crearon de una forma similar a covfefe por un fallo que se acabó popularizando.
---
Edited by Doris Fernandes del Pozo – Journalist, Translator-Interpreter and Communication Trainee at the Terminology Coordination Unit of the European Parliament.
1,519 total views, 2 views today
Categorised in: All posts, Linguistics, Neologisms, Terminology, Top5 Articles of the Month on Terminology